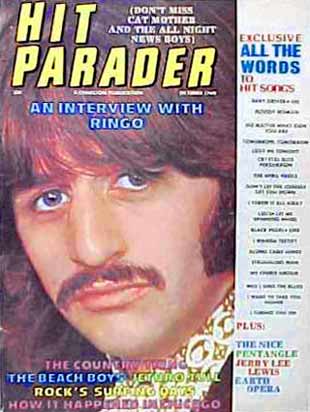 ABOUT THIS INTERVIEW:

On March 13th 1969, Nick Logan visited Chobham Common in Surrey on-location during the filming of 'The Magic Christian.' This most recent comedy vehicle for Peter Sellers also co-starred the drummer for the Beatles. Logan's interview with Ringo Starr would be originally published in the March 29th issue of New Musical Express, and later reprinted in the October 1969 issue of Hit Parader magazine.

'The Magic Christian' is an inspired, wacky sixties film that most people either really love or hate, based on the novel by Terry Southern. Appearing with Sellers and Starr in the film are Pythons John Cleese and Graham Chapman, Goon Show alumnus Spike Milligan, Christopher Lee, Racquel Welch, Roman Polanski, and Yul Brenner as a lounge-singing transvestite. Paul McCartney wrote the film's theme song 'Come And Get It' performed by Badfinger.

In this interview on the film set, conducted between takes of the 'grouse shooting' scene, Nick Logan asks Ringo about his public and private life, negative press coverage, his reactions to the controversial actions of his fellow Beatles, and the recent marriage of Paul and Linda McCartney, who had tied the knot just one day earlier on March 12th.

- Jay Spangler, www.beatlesinterviews.org
---

A deserted Centurion tank and a 'dummy' tree upturned in a ditch provide the first bizarre indications that we've arrived. Out there on Chobham Common in wildest Surrey they are on-location filming a Beatle and an ex-Goon in 'The Magic Christian.'

When eventually the familiar Beatle face appears grinning at the rear, it is Ringo attired in tweedy plus fours and deerstalkers... stomping feet, shaking mud from a hefty pair of laborer's boots.

"You've never done me before," says Ringo as a welcome. Ringo is the cozy Beatle -- the good old moptop Beatle-boy who is nearing his thirtieth year, as everyone keeps reminding him. "I think maybe people think they are safe with me. I am married, I am a familiy man. There is nothing bad from the public's view to publish about me."

"I try to keep two lives going. One is only to do with me and mine, and the other is to do with thous and thine. I agree to give them the Beatle Ringo, but the Ritchie I prefer to keep for my family."

And John? "John has just had a divorce. People forget that divorce is happening all over the world. But Mrs. Smith, she never gets a mention. I don't know what people think of John at the moment. Maureen (Ringo's then-wife) was in Liverpool and I know a lot of people there are saying that he has gone a bit crazy. But all he is doing is not keeping up with the image they have created and they think he has gone off his head."
"All we are is nice people. I'm not being smart saying that. We are just nice people."
Ringo's services were required back on the Common, so we piled into a crowded Land Rover, collected Peter Sellers, and with a warning: 'Mind your heads in back,' and a cry of 'All the fun of the fair' from Mr. Starr, we made our bumpy way to where the action was.
Sellers, playing the richest man in the world, and Ringo, his adopted son, were supposed to be on a grouse shoot in which the army intervenes. The two are required to stroll side by side, guns in hand, down a slope -- no dialogue needed. It is over in five minutes. "No need for Orson Wells to worry there," cracks Ringo as we make our way back.
We discuss the Beatles' bad press and he argues that it goes in cycles, and that what might be bad for the public to read is not necessarily bad press for them. "One minute the press will be all over you saying 'Good old Beatle boys.' Next year it will be those dirty old scruffs. I prefer it when it is nice but the other doesn't bother me anymore. It always has depended on the journalist or the paper, however they felt at the time. They can write a story good or they can write it bad. For instance, when we were on tour you might find in one paper it was 'Beatlemania In Bradford,' and in another 'Beatle Rioters Smash Up Bradford.'"
"Perhaps the reporter came 'round and tried to get an interview and couldn't get in, so he went off and wrote it badly. If they managed to get in and we gave them scotch then it would be good old Beatles doing a grand job for Britain."
Does he always understand the actions of his fellow Beatles? "No, I don't always understand, but then I am in a privileged position of being the person who is probably the closest to them and I can go and ask. I read the paper like anyone else and I think what's this. What's going on? But then I can go and ask them what it's all about."
What was his reaction to John and Paul's weddings? "Fantastic. I heard about Paul's when he phoned me to tell me, and I heard about John through the office. I knew why he went away, going abroad somewhere to marry, but I didn't know where or when."
Twenty-nine now, Ringo enters his thirtieth year in July. "When I was 18, I thought that was the time to die. But the old thing is true about being as old as you feel. I don't feel old and I don't think I look my age. It doesn't worry me."
He doesn't find acting particularly difficult. "'Candy' was the test and I thought it was easy, so I felt confident to accept this one."
A film featuring all the Beatles is now closer that it's been for a long while, he says, because for the first time all four have agreed that they should do one. "Everything that has come up has been 'Hard Day's Night' or 'Help' and the casting was like in those films. It was just the four lads rags-to-riches thing in different forms. John would be witty, Paul would be pretty, I would be shy, and George would be George. If we do one, Paul and I should be baddies. Because no one will expect Paul and I to be naughty."
"People have really tried to type-cast us. They think we are still little moptops, and we are not."
Current Beatle work involves the completion of their next LP. Virtually certain to be their next single is 'Get Back,' which features organist Billy Preston. "Paul takes the lead vocal, and you can say it's a lovely little toetapper."
With an infectious beat that'll get your feet tapping? "Yes," says Ringo grinning. "If you can sit down when this one is on, then you're a stronger man than I am."
"Put that in. It'll give me a smile when I read it. It'll make me happy."



Source: Transcribed by www.beatlesinterviews.org from original magazine issue