ABOUT THIS INTERVIEW:
On May 19th 1967, Beatles' manager Brian Epstein hosted a dinner party in his London home to mark the launch of the Beatles' upcoming album, Sgt. Pepper's Lonely Hearts Club Band. Invited to the party were a small number of important disc jockeys and journalists, and also attending were the Beatles themselves. Norrie Drummond was among the invited, representing the New Musical Express magazine.
Drummond had the opportunity to briefly interview each of the Fab Four. The following interview, entitled 'Dinner with the Beatles,' was published one week later in NME's May 27th issue.
At the time of its release in 1967, the Sgt. Pepper album drew both praise and pans from professional critics. Meanwhile an entire generation around the globe quickly adopted it as the anthem of the times. It has since become a regular favorite on lists of the greatest albums of all time, sometimes claiming the top spot. Sgt. Pepper was released in the UK on June 1st where it became the number one LP for 27 weeks. In the United States the album was released on June 2nd, staying at number one on the Billboard charts for 15 weeks.

- Jay Spangler, www.beatlesinterviews.org
---

John Lennon walked into the room first. Then came George Harrison and Paul McCartney, followed closely by Ringo Starr and road managers Neil Aspinall and Mal Evans. The Beatles had arrived at a small dinner party in Brian Epstein's Belgravia home, to talk to journalists and disc jockeys for the first time in many months.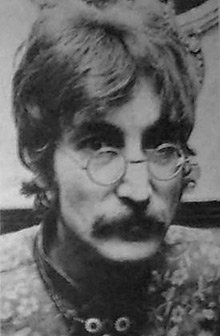 Despite their flamboyant clothes which made even Jimmy Savile look startled, the Beatles are the same sane, straight-forward people they were four years ago. Their opinions and beliefs are the same only now they understand why they believe in them.
"I've had a lot of time to think," said John, peering at me through his wire-rimmed specs, "and only now am I beginning to realize many of the things I should have known years ago. I'm getting to understand my own feelings. Don't forget that under this frilly shirt is a hundred-year-old man who's seen and done so much, but at the same time knowing so little."
John regards the Beatles new LP 'Sgt Pepper's Lonely Hearts Club Band' as one of the most important steps in the group's career.
"It had to be just right. We tried and I think succeeded in achieving what we set out to do. If we hadn't then it wouldn't be out now."
Apart from his green frilly shirt John was wearing maroon trousers and round his waist was a sporran.
Why the sporran, I enquired. "A relative in Edinburgh gave it to Cynthia as a present and as there are no pockets in these trousers it comes in handy for holding my cigarettes and front door keys."
I joined George sitting quietly on a settee nibbling on a stick of celery. He was wearing dark trousers and a maroon velvet jacket.
On the lapel was a badge from the New York Workshop of Non-violence. Their emblem is a yellow submarine with what looked like daffodils sprouting from it. "Naturally I'm opposed to all forms of war," said George seriously. "The idea of man killing man is terrible."
I asked him about his visit to India and what it had taught him. "Firstly I think too many people here have the wrong idea about India. Everyone immediately associates India with poverty, suffering and starvation but there's much, much more than that. There's the spirit of the people, the beauty and goodness. The people there have a tremendous spiritual strength which I don't think is found elsewhere. That's what I've been trying to learn about."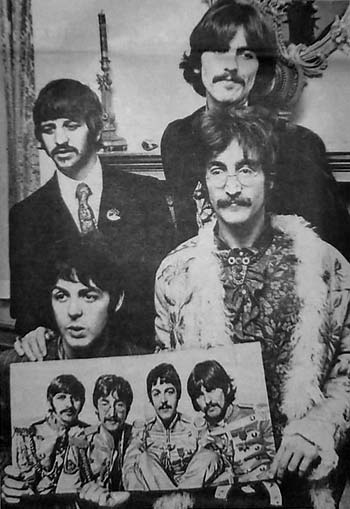 He believes that religion is a day-to-day experience. "You find it all around. You live it. Religion is here and now. Not something that just comes on Sundays."
What had he been doing for the past year, I asked. Didn't he ever get bored? "Oh, I've never been bored. There's so much to do - so much to find out about," he said enthusiastically. "We've been writing and recording and so on."
The LP 'Sgt Pepper' took them almost six months to make and it has received mixed reviews from the critics. Having achieved world-wide fame by singing pleasant hummable numbers, don't they feel they may be too far ahead of the record buyers?
George thinks not. "People are very, very aware of what's going on around them nowadays. They think for themselves and I don't think we can ever be accused of under-estimating the intellegence of our fans."
John agrees with him. "The people who have bought our records in the past must realize that we couldn't go on making the same type forever. We must change and I believe those people know this."
Of all four Beatles, Ringo I think is the one who has changed the least. Perhaps a little more talkative, more forthcoming. The one whose personality isn't quite as obvious as the others and still the most reticent. He is very contented, and what's best by the others is all right by him. What had inspired the sleeve cover of the album - a montage of familiar faces crowding around the Beatles?
"We just thought we'd like to put together a lot of people we like and admire."
Included in the picture are Diana Dors, Oscar Wilde, Karl Marx, Shirley Temple, Max Miller, Lawrence Of Arabia, Bob Dylan, and Stuart Sutcliffe the former member of the Beatles who died in Hamburg.
I drifted over to where the now clean-shaven, and much thinner Paul was sitting sipping a glass of champagne. He greeted me in his usual charming manner and enquired after my health.
"You know," he said, "We've really been looking forward to this evening. We wanted to meet a few people because so many distorted stories were being printed."
"We have never thought about splitting up. We want to go on recording together. The Beatles live!" he said, raising his glass into the air.
---
In a section separated from the interview, Norrie Drummond gives an overview of the party and describes the events as they occured that evening:
Just a stone's throw from Buckingham Palace stands Brian Epstein's four-story Georgian house. On either side live doctors, business executives, architects and actors - several houses in the quiet street are up for sale.

The doorbell is answered by Epstein's driver Brian, who says: "Go straight in. They're up there somewhere." Through the glass doors and on a shelf on the right is an antique clock - a Christmas present from Paul McCartney to Brian Epstein, who is standing beside it.

He is telling disc jockeys Jimmy Savile, Alan Freeman and Kenny Everett about the LP cover. Brian is delighted with it. Also in the room is Peter Brown, Brian's right-hand man who resembles a 30-year-old Ernest Hemingway.

In the center of the room is a table laden with salads, radishes, fruit, cheeses, eggs, cream, hams and loads of other goodies.

The Beatles are at the moment upstairs surrounded by a horde of photographers. Brian welcomes the other guests as they arrive while Peter Brown plies them with champagne. Brian's secretary Joanne Newfield flutters around delightfully, making everyone feel at home and the Beatles press officer Tony Barrow distributes cigarettes.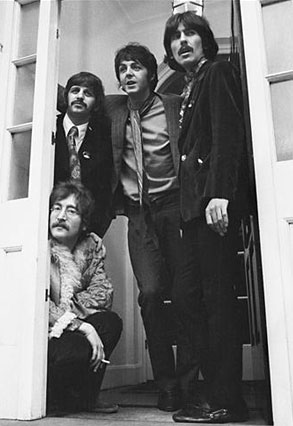 Photographers start coming down the stairs, then road manager Neil Aspinall - now wearing a mustache - appears with the group. "Just one more shot on the doorstep, boys," Tony Barrow instructs the photographers.
Two minutes later the Beatles reappear minus the photographers. George and John head for the table and start eating. Paul tries to, but is cornered by two enthusiastic writers. Ringo stands smoking and talking to Jimmy Savile who's wearing a jacket which looks like one of Fatty Arbuckle's cast-offs.
Paul is trapped over at the window by the two scribes and begins looking round for someone to rescue him. Tony Barrow asks everyone to go upstairs to the lounge. Everyone wanders up to the spacious lounge where the LP is playing. For a couple of hours everyone chats and drinks.
Brian Epstein leaves early to head to his country cottage in Sussex. George is the first Beatle to leave - somewhat abruptly. One writer has apparantly put his foot in it and upset him.
The other three slowly drift off and the evening draws to a close.



Source: Transcribed by www.beatlesinterviews.org from original magazine issue